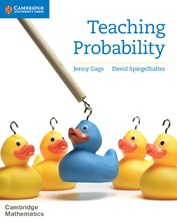 The material on this site supports Teaching Probabiity, published by Cambridge University Press in the Cambridge Mathematics series.
For comments and queries, please contact educs@cambridge.org .
Part 1
Chapter 1: Introduction
Galesic M, Garcia-Retamero R. Statistical Numeracy for Health: A Cross-cultural Comparison With Probabilistic National Samples. Arch Intern Med. 2010 Mar 8;170(5):462–8.
BBC News. What happened when MPs took a maths exam
Gigerenzer G, Hoffrage U. How to improve Bayesian reasoning without instruction: Frequency formats. Psychol Rev. 1995;102(4):684–704.
Gigerenzer G, Edwards A. Simple tools for understanding risks: from innumeracy to insight. BMJ. 2003 Sep 27;327(7417):741–4.
Gigerenzer G, Gaissmaier W, Kurz-Milcke E, Schwartz LM, Woloshin S. Helping Doctors and Patients Make Sense of Health Statistics. Psychol Sci Public Interest. 2007 Nov;8(2):53–96.
Martignon L, Kurz-Milcke E. Educating children in stochastic modeling: Games with stochastic urns and colored tinker-cubes. 2006.
Reyna VF, Brainerd CJ. Numeracy, ratio bias, and denominator neglect in judgments of risk and probability. Learn Individ Differ. 2008;18(1):89–107.
NHS Breast Screening Programme. Breast screening: helping women decide
Garfield J, Ahlgren A. Difficulties in Learning Basic Concepts in Probability and Statistics: Implications for Research. J Res Math Educ. 1988;19(1):44–63.
Part 4
Chapter 20: What's the best strategy?
Chapter 21: What does 'random' look like?
Chapter 22: How should we change our beliefs?
Chapter 23: How probable is probable?
Chapter 24: Misconceptions
Chapter 25: Heads or Tails, boy or girl?
Chapter 26: Your risk is increased!
Chapter 27: It's a lottery
Chapter 28: Switch or stick?
Chapter 29: It's not fair!
Chapter 30: Take a risk?
Chapter 31: Happy birthday to you, and you, and ..
Chapter 32: How long do I have to wait?
Chapter 33: Do you know what you don't know?